Useful Info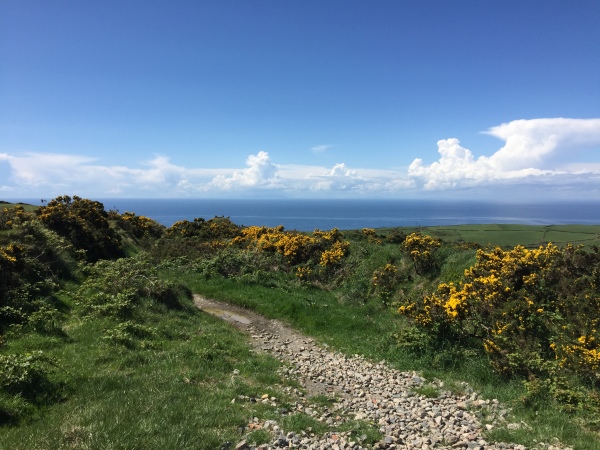 A Green Lane is an unsurfaced road through the countryside for pedestrians, 4x4s, motorcycles, mountain bikes and horses. On Green Lanes, vehicle users should give way to pedestrians, cyclists and horse riders.
Farm livestock and animals could be in the road at any time and, indeed, the roads which are now designated as Greenway Roads have for a long time served the dual function of road and footpath. The roads therefore serve mainly the function of footpath, vehicular or animal access to adjacent lands, or for by-way touring and sightseeing with vehicles which are suitable for use on non-macadamized roads.
Riders Country Code of Conduct:
1. Show consideration for others;
Be courteous to all other users. Take care when passing pedestrians (walking or running), horses, cyclists and any livestock. Be prepared to stop your engine if needed, remembering that restarting your engine may scare a horse more when it has passed, as you are to its rear.
2. Keep to the defined track;
Many tracks have wooden markers posts on the uplands that you should stay between, do not widen these tracks by riding outside of the posts. Deviate only to pass immovable obstructions. Report obstructions to the highways authority (See contact details below).
3. Two-way traffic;
Most Green Lanes are two way and could have other motorised vehicles using the Green Lanes at any time, such as: other groups of riders, Large and Small Farm vehicles and 4x4 permit holder vehicles.
4. Ensure that you and your vehicle are fully road legal;
Green Lanes do not mean you are 'Off-Road'. You are subject to the same laws as macadamized roads. Obey all traffic signs and take heed of all advisory signs and notices. Remember certain and often different routes maybe subject to seasonal closure, normally between 1st November through to 31st March. Please adhere to the 'Road Closure' signage where erected.
5. Ride according to the ground conditions;
Where ground is soft or rutted, ride gently to avoid unnecessary damage.
6. Remember that wildlife faces many threats;
Green Lanes can be valuable habitats. Take special care in spring and summer.
GREENWAY ROAD TRAFFIC SIGNS: The Greenway Roads may be identified by their users and other traffic, and the weight restriction which applies in them may be known to traffic, the Department of Infrastructure has also made The Traffic Signs (Greenway Roads) Authorisation 1994 (Statutory Document No. 307/94). This instrument empowers the Department to erect special "Greenway" signs to indicate the place where a Greenway Road commences and terminates, and to indicate where another road is a cul-de-sac for traffic which is not permitted to use a Greenway Road. The signs will be green, and incorporate miniature versions of standard Road Traffic Weight Limit and Warning signs. The signs will include the words "GREENWAY ROAD", and the main signs indicating where a Greenway Road begins will also include the words "BAYR GLASS" which is the Manx Gaelic for "GREENWAY". In English, the word "ROAD" has been added to indicate, in ordinary use of language, that the status of the ancient highway has not been down-graded to only a path for pedestrians and that certain vehicles are still permitted to use the Greenway as a Road. Greenway Roads are fully enforceable under the Road Traffic Regulation Act 1985.
Other Useful Contacts:
Isle of Man Forestry Warden: (01624) 695715
Public Rights of Way Officer: (01624) 686665
Email: enquiries@highways.dot.gov.im – Website: www.gov.im/highways
Access & Recreation Officer: (01624) 801263
Email: forestry@gov.im – Website: www.gov.im/defa
Green Lane User Group (GLUG)
Email: glug@gov.im
Road & Track Motocycles
Website: www.roadandtrackmcs.co.uk
Knighter.net
Website: knighter.net
Juan Knight Off Road & ATV
Facebook: https://www.facebook.com/groups/763999100401616/
IOM Four Wheel Drive Club
Website: www.4x4.im