Tracks & Trails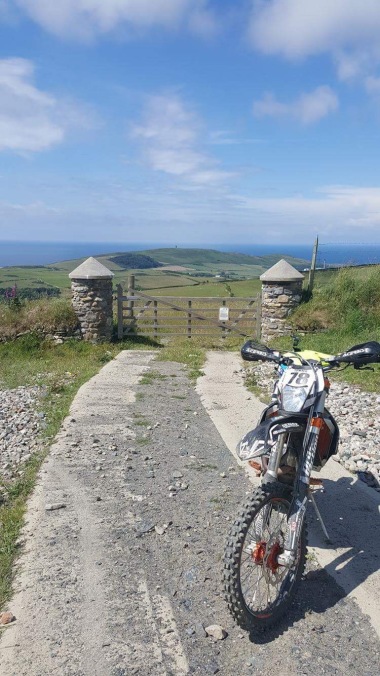 Biking and motorsport in general, are part of the Isle of Man's DNA. Legendary events like the Isle of Man TT, Manx Grand Prix, BEC Rounds, Manxduro, All Terrain Navigation Rally, Rally Isle of Man and National Rally are sown into the Island's fabric.
For off-road bike nuts, looking to experience some of the most exhilarating trial riding anywhere in Britain, the Island's stunning scenery is the perfect backdrop.
So it's no surprise that the Isle of Man has produced some of the biggest names in enduro over the years, like David and Juan Knight, Danny and Jamie McCanney, Jake Subachus and the young, up and coming Tom Knight, the list goes on. You never know, you might even get to ride alongside them whilst you're here!
Spread across our hilly landscapes, plantations and heath land, lies around 45 legal tracks (or green lanes). In total, that equates to approximately 100 miles of trails at your mercy – comprising a mixture of narrow single tracks, rocky climbs, wide compact surfaces and sections which are rutted and technical. The weather can play its part, all adding to the challenge!
Tracks vary in length, ranging from just a few hundred metres to around five miles - great variation to test every level of rider. What makes it even better is that most tracks are only a short distance apart and with our guidance, you won't get lost or spend an unnecessary amount of time on open roads travelling from one to another.
It's perfectly feasible to cover 50 or more miles a day – and to ride the entire network during a weekend visit. You'll be back in time to catch the ferry home on Sunday evening or Monday morning.
Taking Responsibility
One of the reasons the Isle of Man has become such a magnet for off-road biking, is the efforts the Isle of Man Government has made to nurture and sustain these green lanes - at the same time protecting and respecting the privacy of local landowners and the farming community. At Manx Trax and Trails, we wholeheartedly support this approach.
Even before the millennium, the Green Lane User Group (GLUG) was set up to promote the responsible and sustainable use of the Isle of Man Greenway network for ALL user groups, including trial riders. It is mutual cooperation and respect for private land that helps ensure these wonderful tracks remain legally open and maintained year-round for your enjoyment.
We genuinely welcome responsible riders coming to enjoy what the Isle of Man has to offer. This is a friendly, hospitable Island where trial bikers are an integral part of the local scene. But it's important that everyone adheres by the rules and doesn't abuse the hospitality on offer. So we respectfully ask that all riders stay on the designated routes and please don't ride "off piste" on private land.
How to Find Us
The Isle of Man is located in the middle of the Irish Sea, almost equidistant from England, Scotland (nearest), Northern Ireland and Wales (furthest). The Island measures 32 miles long and 14 miles wide. It's a short ferry ride from Heysham and Liverpool of between 2.5 and 3.5 hours depending the time of year you sail.